School NRM Environment Grant
In 2018-2019, our school received an NRM Environment Grant for the purchase of digital equipment and nesting boxes.  This project has enabled our students to engage more closely with the Hahndorf Creek & surrounding environment by using this equipment to collect evidence of existing plants & wildlife and to monitor environmental changes that are related to our larger Creek restoration project.
We would like to share some photos and videos from this project.
Smartphone Microscope Converters
These $5 converters attach to our iPads and allow us to take photos and videos with up to 30x magnification.
Check out our amazing galleries of photos and videos.
Make sure you have the sound turned up for the videos to hear the excitement of discovery in our voices.
Motion Sensing Camera
This Swift Enduro motion sensing camera has been set up in the school grounds and along the creek to take photos and videos whenever it detects movement OR at certain time intervals (timelapse mode).
Some of our SLC students learnt how to set up and install the camera and have discovered that it takes patience and perseverance to get good footage!!  Below are some photos and video, including a timelapse video of our tree planting day.
Nesting Boxes
We purchased 3 medium parrot nesting boxes and a brushtail possum box.  These arrived in flat packs and some of our SLC students put them together and painted them with timber oil.  They are now waiting to be installed on trees along our creek and in our school grounds.
Once our nest boxes are installed we are looking forward to using our nest box camera to monitor the comings and goings of wildlife to the boxes.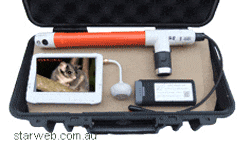 STAY TUNED for more photos and video in the months ahead