Last term we purchased 15 iPads for shared use among our classes. These new devices were received with great excitement from students and staff alike, and I thought that now might be a good time to reflect on our experiences to date.
Why iPads?
With many different tablet and mobile devices on the market, we carefully reviewed other options before selecting the iPads. Although most options would have met many of the following criteria, the iPads were the most suitable device across the board.
They start up instantaneously and are ready to use immediately. No network login is required.
Their touch interface, large screen size and portability make them very easy for the students to handle and use.
They allow quick and easy access to information, multimedia and learning activities.
They enable access to a whole new market of educational 'apps' through the Apple App store – many of which are free.
They are great for taking photos and videos and recording audio.
We chose to purchase the iPad 2 16GB Wi-fi model. These were purchased on special as the supplier was clearing this model out to make way for the 'new iPad'. We didn't see any major benefit in purchasing the 'new iPad' at this stage and so were content with the iPad 2, especially at the discounted price. We also chose the base model (16GB) over the 32Gb or 64Gb model and didn't worry about the 3G functionality as they will primarily be connected to the school Wi-Fi network.
Challenges
Some of the challenges that we faced in the initial setup and ongoing use of the iPads were as follows.
iPads were designed as a personal, single-user device and we needed to use them in a shared environment. Where students needed to save and share work, we needed clear, simple procedures for doing this.
Apple had no volume licencing program for iTunes purchases in Australia. To comply with the App Store terms and conditions we had to set up an iTunes account for each iPad and ensure that we purchased apps legally.
With so many apps on the market, we needed to decide which ones to load on the iPads up front and how to manage requests from teachers for new apps. Several apps were free, but for purchased apps we needed to set a $limit per iPad and manage how to decide which apps to purchase.
We needed to set up and manage the iPads effectively and efficiently, ensuring that the setup was identical on each one.
We needed to set up procedures for storing, carrying, charging, backing up, updating, upgrading and maintaining the iPads.
This involved a lot of up-front effort, but once set up the on-going maintenance of the iPads has been quite straight forward. Given the small number of iPads, we manage them individually over the school Wi-Fi network and have not invested in any multiple device configuration or synchronisation software at this stage.
iPad Setup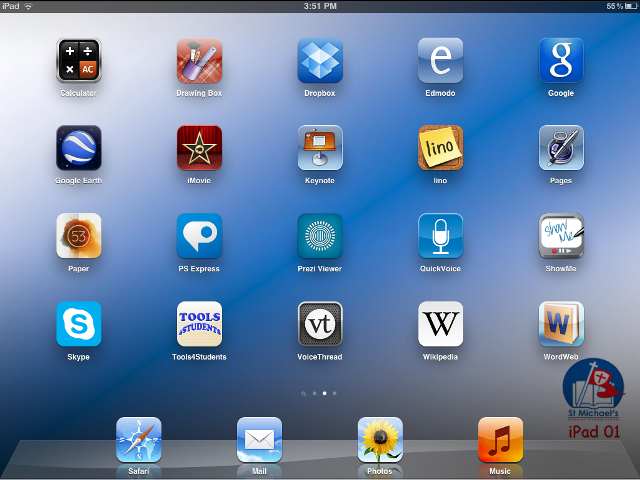 We bundled the 15 iPads into 3 sets of 5 and purchased sturdy carry bags for transporting them around the school. Each set was colour coded and we designed and installed a unique wallpaper on each iPad which had a background colour to match the set colour, the school logo and the iPad number. The apps were installed identically on each iPad and spanned 3 home screens. Several of the default settings were changed, including the following.
General > About > Name : Each iPad was given a unique name from smlpsipad01 to smlpsipad15.
General > Auto Lock : We increased this to 15 minutes so that the screens wouldn't go into lock mode too quickly during lessons.
General > iPad Cover Lock/Unlock : We turned this off to prevent the iPad going into lock mode when the cover was 'flapping'.
General > Restrictions : We turned restrictions ON and DISABLED access to YouTube, FaceTime, iTunes, Ping, Installing Apps, Deleting Apps, In-App Purchases and the Game Center. We configured the settings in the 'Allowed Content' section appropriate to primary school aged children.
Mail, Contacts, Calendars : We set up a unique gmail account for each iPad using gmail's plus addressing syntax (ie smlpsipad+01@gmail.com). We then changed the e-mail signature to "Sent from smlpsipad01" etc. This allows students to send documents they have created on the iPad to their teacher and the teacher can identify the exact iPad from which the e-mail was sent.
Apps
A full list of apps that we installed is in our document titled 'Student iPad Setup'. A few that have been put to good use at this stage include.
Book Creator

by Dan Amos
A simple iBook creator. Add photos, videos, music, voiceovers, text, colourful backgrounds etc. Read your creations in the iBook reader or share as an iBook or pdf file.
Several junior primary classes have used this app to create iBooks and pdf documents. The Year 1 classes created narrated iBooks for their Unit of Inquiry on story writing.
Google Earth

by Google Inc
A virtual globe, map and geographical information app. Explore global satellite and aerial imagery, geo-located photos and Wikipedia articles etc.
The Year 3 classes used Google Earth to explore natural and built structures around the world and the Year 4 classes used it to explore Asia.
lino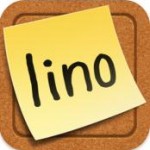 by Infoteria Corporation
On-line sticky note app. Post, see and peel off stickies on on-line collaborative canvases, which are also accessible from PC browsers. Stickies can contain text, images and videos.
Several classes have created collaborative canvases using this app on the iPads or on the lino website from the schools PC's.
Camera

by Apple
The built-in camera app takes still photos and video and saves to them the Camera Roll in the Photo app.
Most year levels have enjoyed using the iPads as another method of taking photos and videos to use in documents, presentations, video clips and movies.
Our reception classes have enjoyed using the following literacy and numeracy apps …
rED Writing

by Rogue Mobile
An app for teaching children how to write letters and numbers using Australian education approved font. Co-designed by an Australian teacher for children aged 3-7 years old.
abc PocketPhonics

by Apps in My Pocket Ltd
An app for teaching the basics of reading and writing to young kids (aged 3 to 6). Letter sounds, handwriting, first words.

FriendsOfTen

by Aleesha Kondys
An app for use in early schooling years to introduce an understanding of numbers to ten, counting objects, subitising, counting on from a higher number, partitioning of objects and combinations that make ten.

Subitising Flash Cards

by Aleesha Kondys
An app for testing subitising knowledge by recognising small groups of objects without counting.